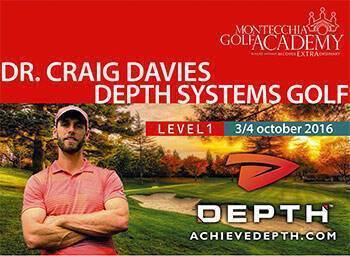 3 ottobre 2016 – 4 ottobre 2016
It is a pleasure to inform you that on Oct. 3rd and 4th  we will host  a 2 days seminar "Depth Systems Golf" by Craig Davies, In Italy, at Golf della Montecchia (near Venice).
Dr. Craig Davies is a Tour trainer and manual therapist, Author of "Golf Anatomy", Keynote Speaker, Golf Consultant, Nike Golf Mentor and creator of the Golf Performance Therapy certification programs.
Graduated at Canadian Memorial Chiropractic College in Toronto (Canada) and undergraduated of The University of Western Ontario with an honours in Kinesiology Science with Biology, he has extensive consulting experience regarding movement and efficiency within the golf swing.
His book "Golf Anatomy" has been published in over 20 languages in over 30 countries and sold over 20,000 copies. Craig has extensive experience and involvement working with international team events, including President's and Ryder Cups, and has a long list of Canadian and International golfer clients. Craig's PGA tour client list is a "who's who" of the tour elite, and has included such players as Hunter Mahan, Justin Rose, Y.E. Yang, SY Noh, Tiger Woods, Anthony Kim, Sean O'Hair, Kevin Chappell, Cameron Tringale, Graham DeLaet and Stephen Ames
We are honoured to inform you that Craig is going to share this event with  a special guest from the PGA Tour, his collegue Marnus Marais.
Marnus is a physiotherapist and physio trainer who works with Daniel Berger, Louis Oosthuizen, Reteif Goosen and Martin Kaymer.  
When Francesco Molinari, Shane Lowry, Joost Luiten, Jamie Donaldson, Danny Willet and Anirban Lahiri play on the PGA Tour they also turn to Marnus for help maintaining and promoting health and function in their bodies.
Marnus has worked on the European and PGA Tours since 2007.  Prior to the PGA Tour, he worked for a significant number of years with the British Military.
He currently splits his time living in Palm Beach Gardens (Florida) and San Diego (California).
His certification include:
-TPI (Titleist Performance Institute) M3 (Medical Level 3)
-CSCS (Certified Strength and Conditioning Specialist)
-FR (Functional Range Release) Full Body Certified (Spine, Upper -and Lower Body)
-ART Upper Extremity 
-StrongFirst SFG Level 1 Instructor (Kettlebell)
Here enclosed all the information that you can also find, together with the application form, on  our website www.golfmontecchia.it.
Hoping to hear very soon from you, we remain with our best regards.
See you in Montecchia!